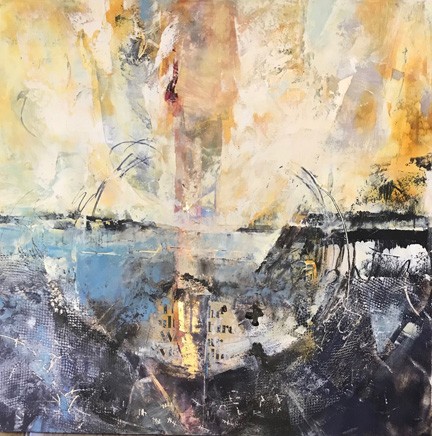 Grace Carol Bomer's concern is the human condition surprised by the grace of God. Her love of the physicality of oil paint and wax and her spontaneous process create abstract paintings rich with themes of pilgrimage, love, and sacrifice.
Images and often text introduce motifs and metaphors that suggest a narrative that allows the viewer a glimpse into the mystery and transcendence of an eternally relevant story.
Her use of gold leaf, along with her layered mark making and pairing of text and image reference the eternal, the truth that all things hold together in Christ, The Word of God and The Image of God. The Incarnation is the focal point of her work and a visual reminder of God's extravagant grace.
"Her art is visual storytelling that touches the soul." Michelle Pelsue Founder-Arts and Entertainment Ministries-LA