Hahnemuhle rag paper
14" x 20"
And they sang a new song, saying: "You are worthy to take the scroll, And to open its seals; For You were slain, And have redeemed us to God by Your blood Out of every tribe and tongue and people and nation, and have made us kings and priests to our God; And we shall […] Revelation
The God who is the Alpha and the Omega the beginning and the end, has opened the seventh seal. The scroll signifies the unfolding of human history. Redemption is complete. He wears the victor's crown of laurel leaves as He gathers His bride to himself. Above another scroll is being unfurled! The heavens will be rolled back as a scroll. Revelation 6:14.
The original painting was commissioned.
For a complete statement go to the next image.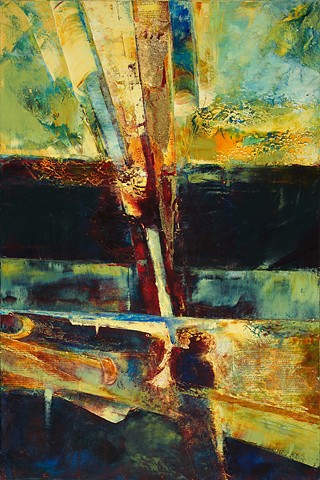 Scrolls Unfurled
original media oil and cold wax with text
14 x 20 (giclee print includes signed 1" white border)
2013