This giclee on canvas was reproduced from a mixed media painting of torn canvas on a 48" x 48" panel. It was part of my Christmas Invitational at the Asheville Art Museum and part of my Torn Veil series. Each giclee print is unique with hand-applied gold leaf.
The fiery torso that descends into our darkness is a covering of glory, a robe of righteousness. It was inspired by and takes its title from the Advent poem by Suzanne Rhodes.
ADVENT
Through the needle's eye
the rich man came,
squeezing through stars of razor light
that pared his body down to thread.
Gravity crushed his hearts chime
and his breath that breathed out worlds
now flattened as fire between walls
the impossible slit
stripped him
admitting him
to stitch the human breach.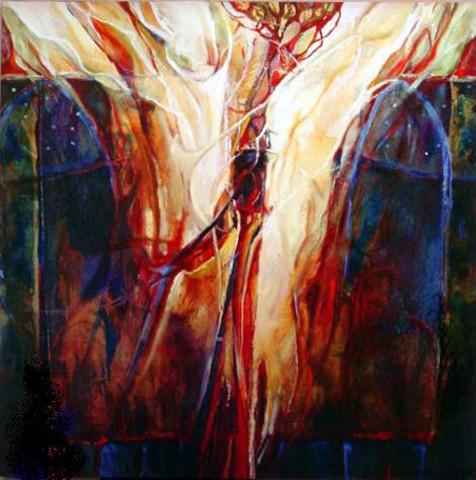 Advent / Through the Needle's Eye the Rich Man Came
giclee / gold leaf on wrapped canvas
36" x 36"
2013